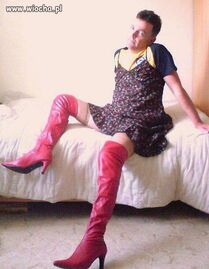 Boenbotte ( [boɛnbɔt] ) est un artiste appréciant se prendre en photo dans des positions osées, généralement avec une botte sur son pénis et en primeur le lâcher de botte qui à fait de lui une star assez célèbre dans son genre.
Il réalisera une centaines de vidéos dédicacées pour ses fans, dont une qui s'attaquait directement au puissant Patrick Servanin sous demande de son compère Henri Lehenriste.
Voir la vidéo ( hébergée par les archives officielles du Parti Henriste Français ).
C'est suite à l'annonce de son décès via sa famille, que nous avons appris le décès de Boenbotte suite à un accident de la route.
Les hommages se sont succédé suite à l'annonce de sa disparition durant la dernière semaine de vie de son profil Facebook, avec le témoignages de nombreux fans qui jusqu'ici en avaient même oublié son existence. Cependant, Henri, son grand ami, spécule encore sur cette prétendue mort, car en effet, aucun acte juridique de décès a été exhibé par sa famille ( ce qui peut aussi être très compréhensible en raison l'émotion que cet événement doit susciter. En tous les cas, Boenbotte est et restera vivant dans nos cœurs, comme l'homme qu'il était.
Ad blocker interference detected!
Wikia is a free-to-use site that makes money from advertising. We have a modified experience for viewers using ad blockers

Wikia is not accessible if you've made further modifications. Remove the custom ad blocker rule(s) and the page will load as expected.